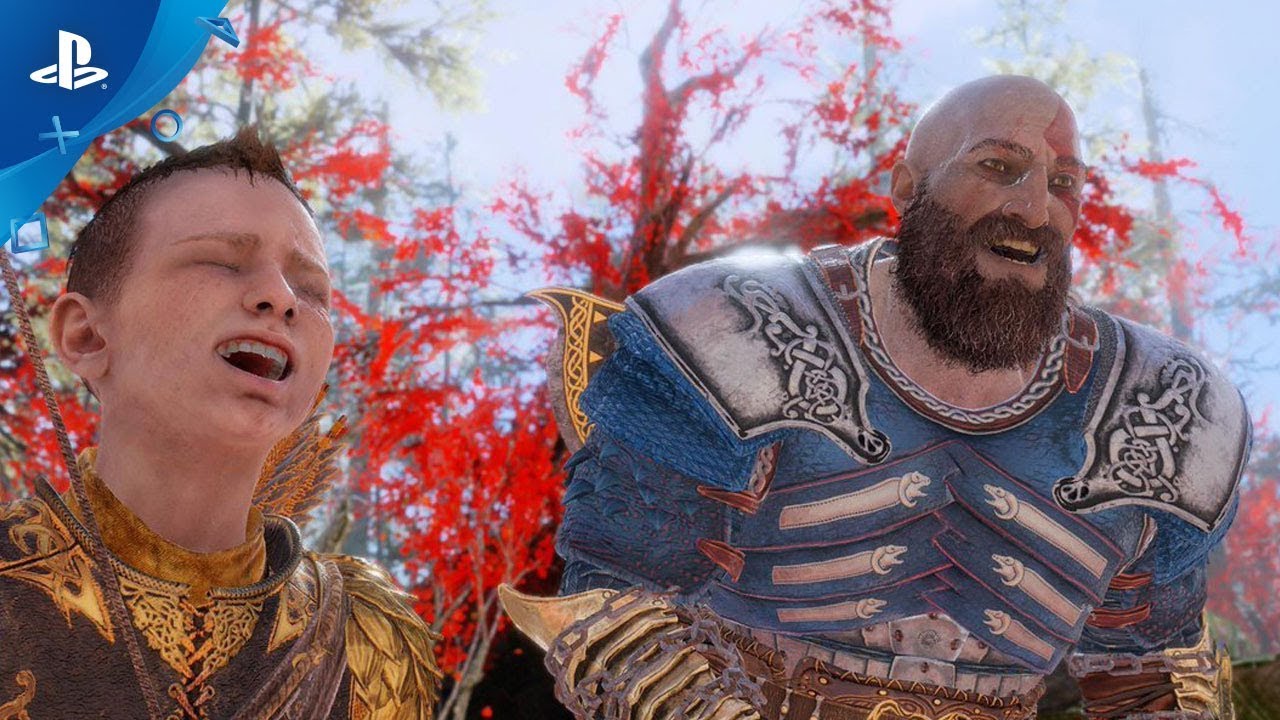 Celebren el próximo primer aniversario de God of War con un nuevo tema de PS4 (disponible hoy) y un conjunto de avatares (disponible el 17 de abril).
Todos juntos soñamos grandes sueños. Soñar en grande nos ha llevado a una asombrosa sensación de logro para todos nosotros acá en Santa Monica Studio, y es la creencia en ese sueño lo que nos mantiene en marcha, desde el momento en que empezamos a crear un nuevo comienzo para God of War.
En 2015, celebramos el 10 aniversario de God of War, al haber empezado la saga en 2005. Y acá estamos reflexionando sobre el primer aniversario de una nueva era para Kratos, ahora con su hijo, Atreus. Cuando Cory Barlog nos trajo por primera vez esta visión transformadora de un padre e hijo embarcándose en una asombrosa aventura juntos, una aventura para honrar a una esposa y madre… pero también una donde un niño le enseñaría a su padre cómo volver a ser humano; y el padre (Kratos) le enseñaría a su hijo como ser un dios mesurado, sabíamos que teníamos algo especial para nuestros fans. Sin embargo, el cambio es duro. El cambio a una franquicia de tantos años viene con una duda inconmesurable, un estudio que define el riesgo y da un gran salto de fe. Gracias a todo nuestro equipo en el mundo; la familia de Sony PlayStation y ustedes, los millones de fans de God of War al rededor del mundo quienes dieron ese salto con nosotros, a una aventura que nunca esperamos. Hicimos este viaje juntos.
 
En honor a ustedes, nuestros fans, empezamos una semana de celebración del primer año de aniversario de este God of War. Estoy muy feliz de complacerlos con una pequeña muestra de nuestro agradecimiento. Hemos creado un fantástico conjunto de avatares de personaje de Aniversario de God of War que estará disponible gratis este miércoles, y un tema dinámico de PS4 disponible ahora mismo que les traerá de regreso la serenidad de Kratos y Atreus en el Lago de los Nueve. Todos estará gratis en PlayStation Store (busquen God of War), tengan el juego o no.
 
Este último año hemos sido honrados con el honor del Juego del Año de una cantidad asombrosa de tiendas en todo el mundo. Nos sentimos humildes, y aún más nos sentimos honrados de estar en el mismo lugar de tantos juegos obras maestras que sin duda merecen la misma distinción. Como muchos en nuestra industria, en Santa Monica Studio creamos juegos y nos esforzamos por contar historias poderosas que conecten emocionalmente. Este año se cumplen 20 años desde que se fundó nuestro estudio. Si tuviera que predecir los próximos 20 años de Santa Monica Studio, puedo decirles que sin lugar a dudas, continuaremos creando juegos cuyo arte refleja la vida, y la vida refleja el arte, con historias que queremos que resuenen en los próximos años.
Gracias desde el fondo de nuestros corazones por abrazar al nuevo God of War y por ayudar a Santa Monica Studio a comenzar también un nuevo comienzo. De todo nuestro equipo para ustedes, eso ha significado todo para nosotros. Ahora, tenemos un largo camino por delante.