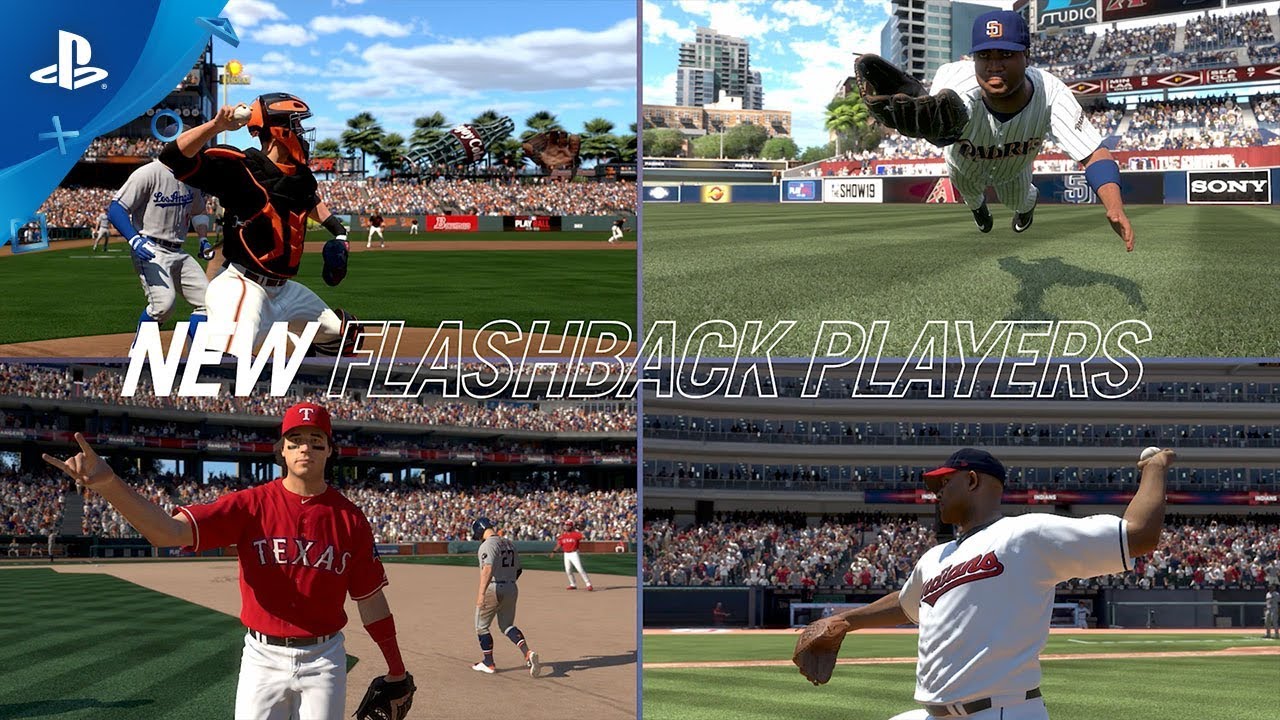 Leyendas del pasado y estrellas de la actualidad llegan a su parrilla de jugadores.
Para aquellos nuevos en MLB The Show 19, las Leyendas son los más grandes jugadores retirados como Babe Ruth, Jackie Robinson y Ted Williams. Las Leyendas son jugables en Diamond Dynasty (se requiere Internet), Modo Franquicia, y en equipos de eras específicas en el Modo Exhibición. Los Flashbacks son jugadores del hoy en día, como el novato Bryce Harper, que se clasifican según ese tiempo en su carrera. Por primera vez en MLB The Show 19, pueden agregar más de 50 Flashbacks a la parrilla de su Franquicia junto a otras Leyendas e intentar ganar un título.
Legends & Flashbacks agrega un rico e histórico elemento a MLB The Show 19. Significa más de 100 años de historia e ilustra cómo ha evolucionado el deporte al juego de hoy. Cojan el control y establezcan debates en el campo digital. Construyan su parrilla con Leyendas de todos los tiempos, jugadores que crecieron viendo, o las estrellas de hoy en su mejor momento.
¡Introducimos dos nueva Leyendas a MLB The Show 19: Rickey Henderson y Don Mattingly!
Nuevas Leyendas anunciadas en MLB The Show 19 (y más por venir)
Willie Mays
Rickey Henderson
Don Mattingly
Iván "Pudge" Rodríguez
Lou Gehrig
Ty Cobb
Jimmie Foxx
Cy Young
Kerry Wood
Mark Prior
Christy Mathewson
Walter Johnson
Rogers Hornsby
Jason Kendall
Rob Dibble
Cliff Lee
Andruw Jones
Bret Boone
Hal Newhouser
A.J. Burnett
Diamond Flashbacks Choice Packs
Si adquieren Gone Yard Edition, MVP Edition o Digital Deluxe Edition de MLB The Show 19, recibirán un código de cupón para Diamond Flashbacks Choice Pack. En el paquete, elijan una de 30 Diamond Legends & Flashbacks para su equipo de Diamond Dynasty. Con cada equipo de la MLB representado, esta será una de las decisiones más difíciles en su vida de jugador de videojuegos de béisbol. Lou Gehrig, Frank Thomas, Kerry Wood y Buster Posey están entre sus Diamond Legends & Flashbacks.
Sigan en sintonía para nuevas noticias de MLB The Show en Facebook, Twitter e Instagram, y visiten TheShowNation.com mientras MLB The Show 19 se estrena el 26 de marzo en exclusiva para PS4.