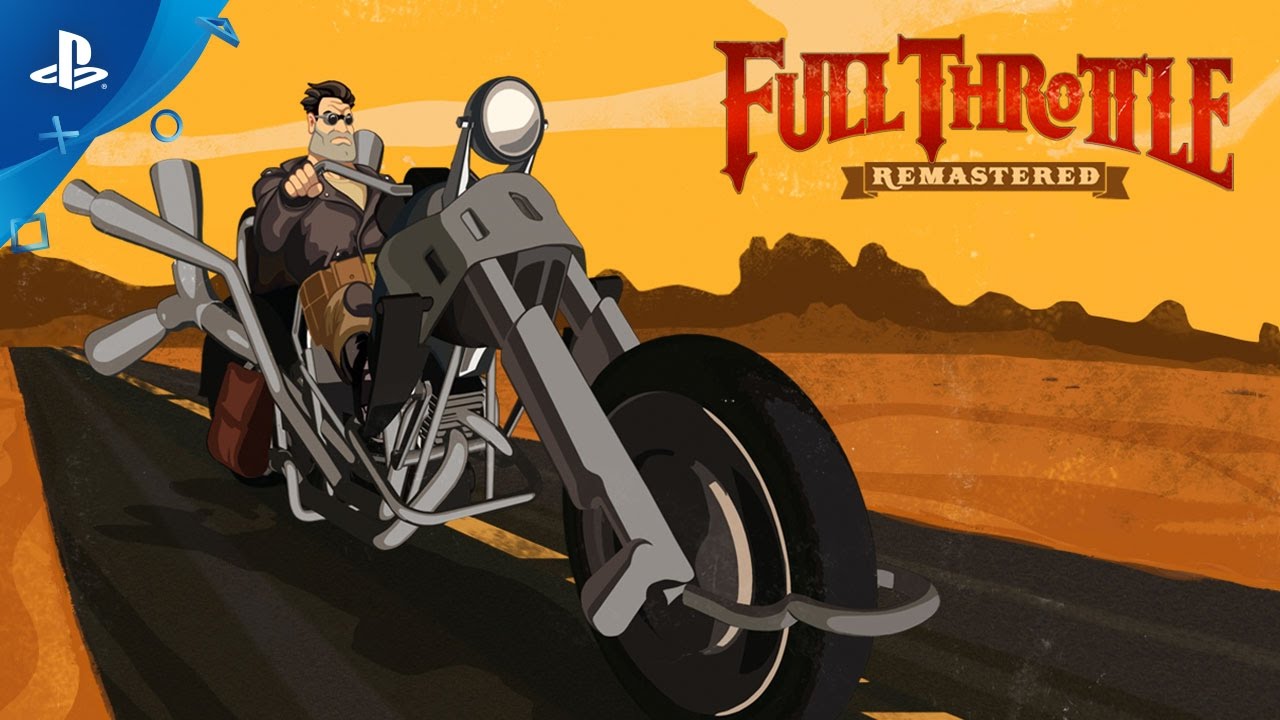 El equipo en Double Fine recuperó viejas cintas y consultó al artista original Peter Chan para mejorar este clásico de LucasArts.
Full Throttle Remastered se lanza hoy, 22 años después de que llegara a los estantes de las tiendas en abril de 1995. Cuenta la historia de Ben Throttle, líder patea traseros de la pandilla de motociclistas de los Polecats, que se ve atrapado en un cuento de motocicletas, locura y el asesinato.
Full Throttle fue el primer juego de Tim Schafer como líder único del proyecto en LucasArts, y al igual que sus otros juegos de Lucas, Day of the Tentacle y Grim Fandango, se convirtió rápidamente en un amado clásico de culto. Ya hemos remasterizado esos otros dos, y con este terminamos la trilogía de los juegos de Tim Schafer LucasArts.
Es una buena cosa que hayamos dejado a Full Throttle en último lugar, ya que es el más complejo de todos los tres, un proyecto ambicioso en su momento, tiene el doble de fondos y el doble de marcos de animación que Day of the Tentacle, y combina las ilustraciones 2D y 3D mientras que esos otros juegos apenas tienen uno.
Para remasterizar Full throttle hemos rediseñado todas las ilustraciones a mano y ampliado de 4:3 a 16:9, lo que significó consultar con el artista conceptual Peter Chan para que nos ayudara a dibujar partes de cada escena que nunca antes habían visto. Recuperamos todos los viejos y bastante crudos modelos 3D y los reforzamos usando técnicas modernas. Las sesiones de voz originales fueron recuperadas de las antiguas unidades de cinta para proporcionar un sonido limpio y sin comprimir, y trabajamos con The Gone Jackals, la banda que proporcionó la banda sonora y con el compositor Peter McConnell para hacer lo mismo por la música.
Hemos detallado todo esto en el modo de comentario incluido, y curamos una gran cantidad de viejos conceptos de arte para que también naveguen a través de ellos.
Estamos muy orgullosos de cómo han terminado todos estos juegos remasterizados. Hemos hecho todo lo posible para preservar la intención original de las personas que los hicieron hace 20 años al involucrarlas en cada turno, y pensamos que realmente se nota a medida que juegan. Así sean amantes de los viejos tiempos o así nunca lo hayan jugado, realmente deseamos que disfruten Full Throttle Remastered, que estará disponible hoy mismo para PS4 y PS Vita.
¡Oh! Como un bono especial hemos incluido un Tema dinámico con el juego ¡de forma gratuita! Tiene un ciclo de día/noche de lujo que está atado al reloj del sistema. ¡Asegúrense de revisar nuestro nuevo tráiler de lanzamiento para ver más!