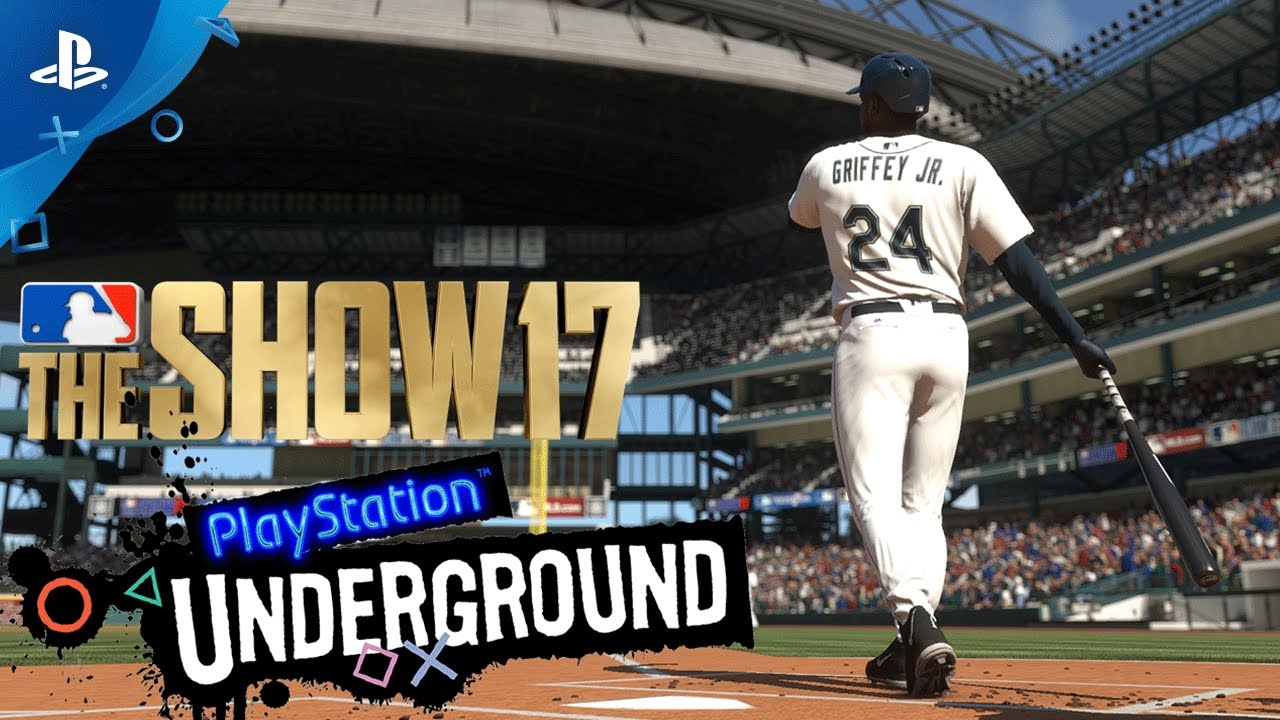 ¿Son nuevos en The Show? No se preocupen. Este año el equipo de San Diego Studio hace más fácil que nunca jugar a la pelota.
Ha sido un viaje salvaje este año para MLB The Show 17. Desde octubre, anunciamos al legendario Ken Griffey Jr. como nuestro atleta de portada, así como una carga de nuevas características, tales como:
Así es que ¿por dónde empezamos? Para ayudarles a empezar en MLB The Show 17, hemos compilado esta lista de 12 fáciles pasos:
Paso 1: Obtengan MLB The Show 17. No pueden jugarlo si no tienen el juego ¿cierto?
Paso 2: Besen a Griffey para la buena suerte.
Paso 3: Hagan 17 sentadillas.
Paso 4: Carguen MLB The Show 17 en su PS4.
Paso 5: Calienten con algunos juegos en Modo Retro, probando el estilo de Ken Griffey Jr. Trituren ese botón X y anoten carreras todo el día.
Paso 6: Arranquen Road to the Show y empiecen a construir su personaje. ¿Tendrá barba o un atractivo bigote?
Paso 7: Usen puntos de entrenamiento para que se vuelva más difícil, mejor, más rápido y más fuerte.
Paso 8: Hagan rodar las menores cuando su agente los llame con una oferta para dirigirse a The Show. Pero tengan cuidado: el camino a las mayores no siempre puede ir de la manera deseada, y está muy determinado por sus elecciones.
Paso 9: ¿Quieren jugar sólo lo mejor? Salten al Modo de Franquicia y lleguen directamente a esos momentos difíciles y decisivos con situaciones críticas. O utilicen el Bloqueo de Jugador para saltar al campo y seguir a un jugador específico durante todo el juego.
Paso 10: Construyan su Dinastía. Párense en el plato y compitan contra sus amigos en Battle Royale con juegos cortos de tres entradas para resolver sus rencores.
Paso 11: Conquisten a los Estados Unidos y tomen territorios enemigos en el Modo Conquista. Dominen en juegos rápidos de tres entradas para energizar a sus fans ¡y conquistar el mundo!
Paso 12: Hagan la danza de la victoria. Repitan.
Como lo pueden ver, hay muchos modos para probar y cientos de razones para amar The Show. Hecho divertido: los ninjas y los guerreros también aman The Show. Si no me creen, vean el siguiente video.
¡Nos vemos en el campo!