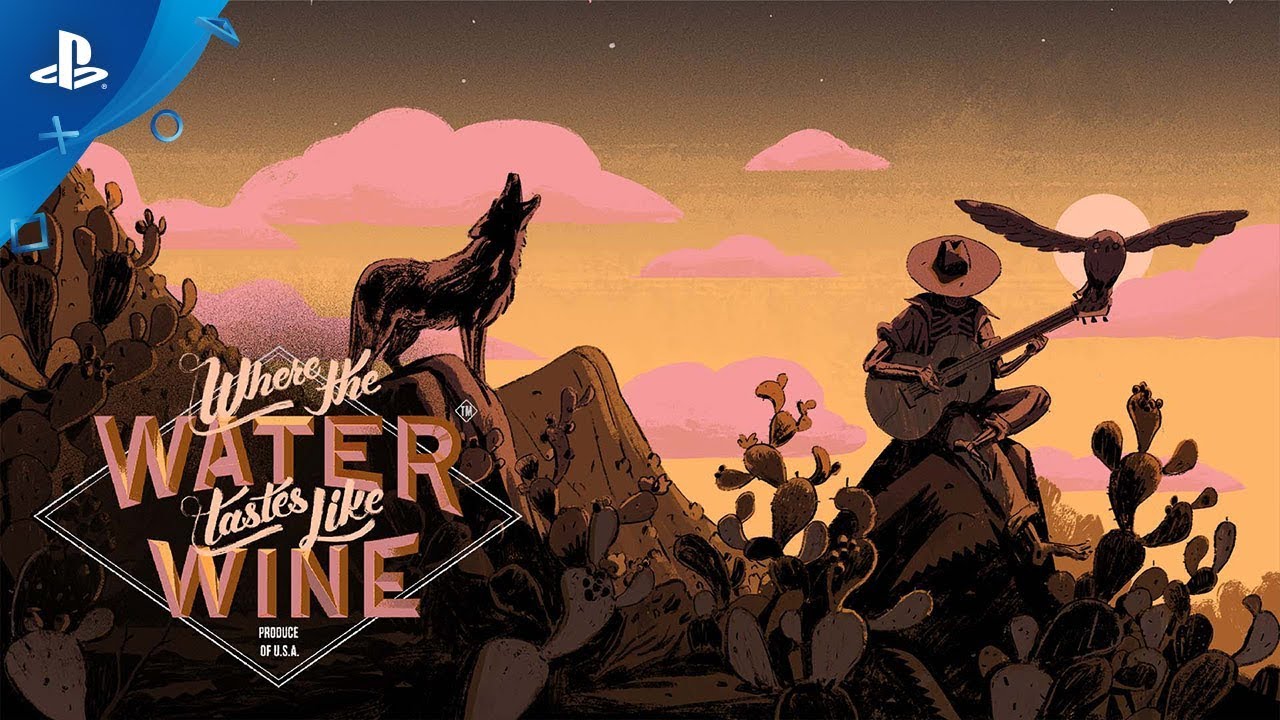 Estamos felices de anunciar que el galardonado juego de narrativa, Where the Water Tastes Like Wine, llegara a PlayStation 4 el 2 de diciembre.
Estamos felices de anunciar que el galardonado juego de narrativa, Where the Water Tastes Like Wine, llegará a PlayStation 4 el 2 de diciembre.
Where the Water Tastes Like Wine es un juego sobre deambular en los Estados Unidos durante la era de la Depresión, recolectando historias que van desde cuentos de terroríficos fantasmas de niños a la leyenda de Pecos Bill. Después de reunir estas historias, las compartirán al calor de la fogata en el campamento con los personajes que conocen. El título tiene 16 personajes diferentes, y en un giro único, cada uno fue escrito por un escritor diferente.
Estos son algunos:
Está Jimmy, quien es el predicador errante. Escrito por Austin Walker, Jimmy le habla al jugador sobre su familia, la fe, y las comunidades con las que interactúa. También habla sobre su tiempo en la Primera Guerra Mundial, y como Austin es un fan de la lucha libre, habla sobre el circuito de lucha libre, y cuando su padre la practicaba.
También tenemos a Althea, la intérprete de blues. Ella le vende el alma al Diablo para ser la mejor, pero su trato no sale muy bien para ella. ¿Pero es peor que sus alternativas? La talentosa Gita Jackson escribió su historia, es un viaje asombroso. La actriz de voz Kimberly Brooks (Mass Effect 3) trae a Althea a la vida cuando cuenta su historia.
Y Bertha, la refugiada, es interpretada por Cissy Jones (Firewatch), y escrita por Emily Short. La granja de Bertha en Oklahoma se va a pique cuando la sequía y los vientos la impactan, destrozando el suelo y haciendo que la vida sea casi imposible en la nueva tierra. Viaja a California en busca de una mejor vida para ella y su familia, pero en cada escenario se le niega pago justo, lugar para vivir y casi todo lo que necesita.
Y tenemos a Quinn, el chico vagabundo. Fue expulsado de casa, como muchos otros cuando la Gran Depresión pegó, y ahora viaja por los rieles con su confiable perro y un cuchillo afilado. Su voz es de la asombrosa Melissa Hutchison (The Walking Dead) y está escrito por Claris Cyarron, ellos le cuentan al jugador historias de viaje y vida como un vagabundo en los tiempos más difíciles que Estados Unidos ha vivido.
Hay muchas más que estas cuatro historias, ¡y hay 12 personajes más para conocer! Además, hay una persona que les da una misión, el misterioso lobo. Con la voz de Sting, el hombre con cabeza de lobo gana una partida de póker y consecuentemente los maldice para que deambulen por la tierra, esparciendo las historias que conocen aquí y allá. Lo verán en varias ocasiones, cada vez que sucumban al hambre y el agotamiento, o si una de sus aventuras los lleva a la muerte. Y luego una última vez cuando finalicen su tarea…
¡Esperamos que encuentren lo que están buscando!