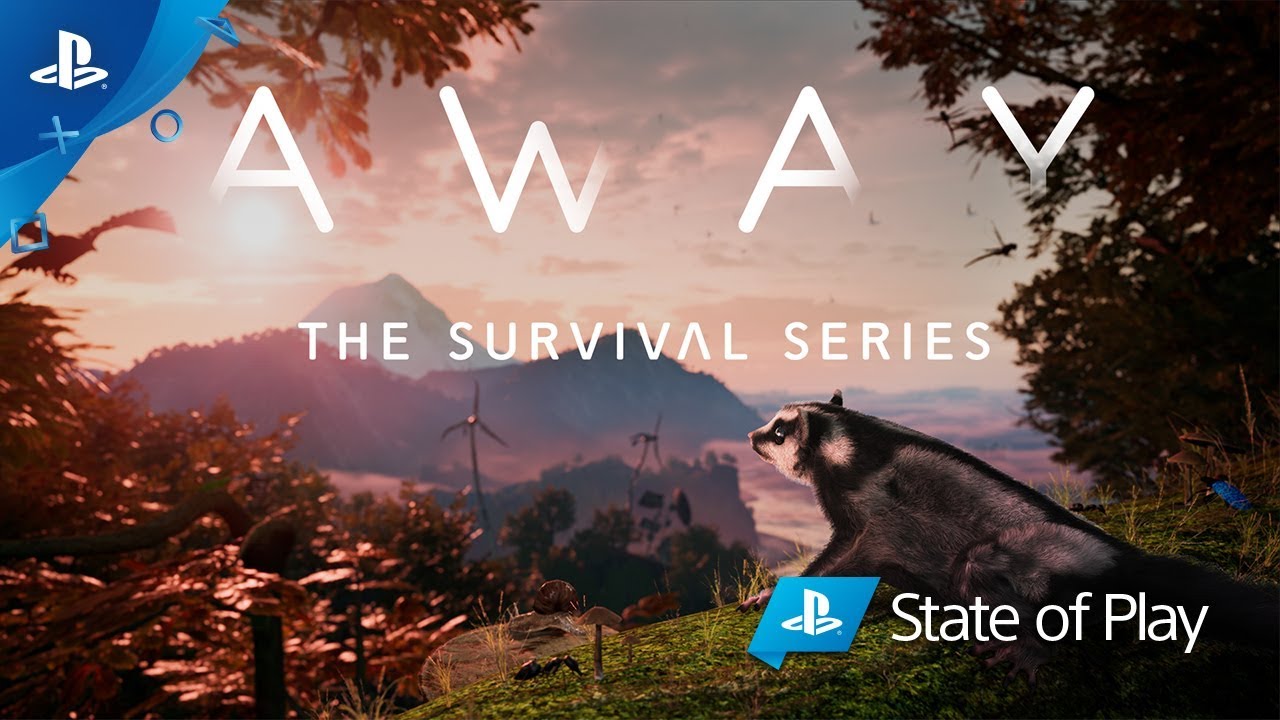 En este juego de salvaje aventura, revelado en State of Play, los documentales de naturaleza cobran vida.
Hace tres años, nuestro equipo se propuso hacer el juego que siempre habíamos querido jugar. Uno en el que no solo jugaras como un animal, sino que de verdad te adentrara en un documen-tal de la vida salvaje y vivieras la naturaleza desde una perspectiva totalmente nueva. Hoy nos complace anunciar que Away: The Survival Series llegará a PlayStation 4, ¡y estamos ansiosos por revelar más novedades de él!
Ambientado en un futuro distante, Away te sumerge en las aventuras del petauro del azúcar.
Ante los desastres naturales que amenazan la supervivencia de todas las especies del planeta, debes adentrarte en tierra salvaje en búsqueda de un refugio seguro. Tu viaje te llevará a través de impresionantes entornos llenos de criaturas peligrosas mientras descubres los misteriosos orígenes de tu mundo.
La naturaleza se hace realidad
Para sentirnos inmersos en la naturaleza por completo, nos dispusimos a crear un mundo vi-sualmente impactante lleno de entornos coloridos y vibrantes. Dado el pequeño tamaño del pe-tauro del azúcar, nos aseguramos de que cada planta, hoja y brizna de césped se tomara en cuenta, y esta atención a los detalles se ve recompensada cuando navegas por la amplia varie-dad de paisajes de Away.
También diseñamos los entornos en torno a la capacidad del petauro del azúcar de saltar, esca-lar y planear por sus alrededores. Esta flexibilidad te permite navegar por el mundo que te rodea de la manera que más te guste. Ya sea que estés deambulando por el bosque, explorando una caverna oscura o planeando por un cañón, cada parte de tu viaje te sumergirá en la naturaleza de una manera que nunca antes habías experimentado.
Entra al reino animal
A medida que te adentres en el mundo de Away, encontrarás ecosistemas repletos de vida con depredadores y presas de todas las formas y tamaños. Desde pequeños insectos hasta gran-des mamíferos, los animales que ves en la naturaleza tienen vida propia interactuando entre sí independientemente de tus aventuras.
Desde luego, también podrás interactuar con estos animales a medida que te encuentres con ellos a lo largo de tu travesía. Ya sea que caces pequeñas criaturas o que evites a los depreda-dores de gran tamaño con sigilo y agilidad, podrás elegir la manera de enfrentar cada situación. Pero ten cuidado de no morder más de lo que puedes masticar…
Creando una atmósfera envolvente
Si has visto documentales de naturaleza, sabrás lo fascinante que es adentrarte en el mundo salvaje y seguir a un animal en su lucha por sobrevivir. Queríamos conseguir esta misma sen-sación con Away, y una gran parte de esto implicaba la creación de una banda sonora que complementara la narración a lo largo de tus aventuras.
Tras su trabajo en la banda sonora de documentales de naturaleza como Life y Planet Earth II, nos asociamos con Mike Raznick, galardonado compositor y director de sonido, para crear la música de Away La cautivadora banda sonora, que es tanto épica como atmosférica, acentúa cada etapa de tu travesía y la convierte en una experiencia de juego verdaderamente fascinan-te.
Después de tres años de arduo trabajo, ¡nos complace anunciar Away: The Survival Series en PlayStation 4! Estamos impacientes por compartir más sobre el juego, así que te invitamos a visitar nuestra página de Facebook y descubrir más novedades a medida que nos adentramos a las profundidades del reino animal.