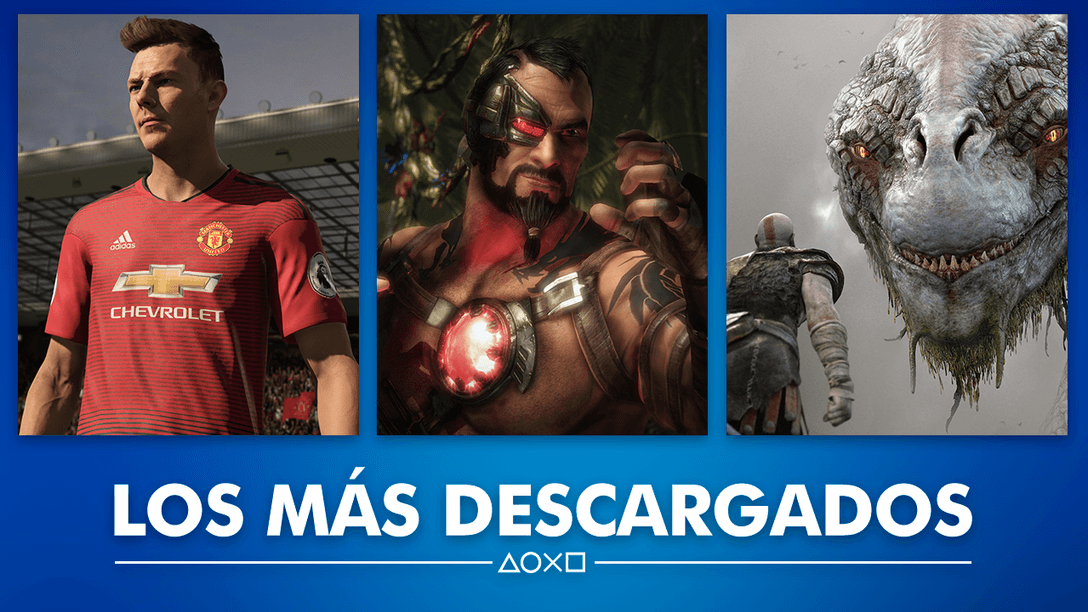 Deportes, lucha y… ¡uno de los mejores juegos del año!
Un mes más que pasa este 2018, y acá estamos para compartirles qué fue lo más descargado en PlayStation Store durante noviembre.
El fútbol sigue siendo lo preferido entre los fans de PlayStation, así es, FIFA 19 se mantuvo durante el mes anterior en lo más alto de los contenidos preferidos de PlayStation Store, no nos imaginamos cuántos goles se han marcado. En segundo lugar, regresa al listado Mortal Kombat XL, que con sus mortales combos y lúgubres personajes se ha convertido en una de las entradas más favoritas de la franquicia. Y para cerrar este tridente por noviembre, el que fuese elegido como el Juego del Año por The Game Awards, exacto: God of War. Desde su lanzamiento en abril no ha dejado de ganar galardones y durante el mes pasado fue el tercer juego preferido en PS Store.
Pero no les queremos hablar solo de juegos, también les traemos otros contenidos como juegos de PS VR, Temas, juegos free-to-play, clásicos y más… todo más abajo. ¿Cuáles de estos contenidos adquirieron? Déjenlo en la zona de comentarios.
Juegos para PS4
1
FIFA 19
2
Mortal Kombat XL
3
God of War
4
The Last Of Us Remastered
5
Call of Duty: Black Ops 4
6
Red Dead Redemption 2
7
Grand Theft Auto V
8
Marvel's Spider-Man
9
Batman: Return to Arkham
10
ARK: Survival Evolved
Juegos para PS VR
1
Beat Saber
2
Creed: Rise to Glory
3
DOOM VFR
4
The Elder Scrolls V: Skyrim VR
5
Until Dawn: Rush of Blood
6
Virry VR: Feel the Wild
7
ASTRO BOT Rescue Mission
8
Job Simulator
9
Archangel
10
Firewall Zero Hour
Juegos para PS Vita
1
God of War: Collection PS Vita
2
Minecraft: PlayStation Vita Edition
3
The BIT TRIP
4
Need for Speed Most Wanted
5
Jak and Daxter Collection
6
Hitman GO: Definitive Edition
7
SONIC & ALL-STARS RACING TRANSFORMED
8
THE KING OF FIGHTERS '97 GLOBAL MATCH
9
Lara Croft GO
10
Dragon Quest Builders
Clásicos
1
THE KING OF FIGHTERS 'COLLECTION: THE OROCHI SAGA
2
Grand Theft Auto: San Andreas
3
Legacy of Kain: Soul Reaver
4
THE KING OF FIGHTERS '98 ULTIMATE MATCH
5
Tomb Raider 2
6
Tomb Raider: The Last Revelation
7
METAL SLUG ANTHOLOGY
8
Tomb Raider III
9
Tomb Raider
10
Bully
Juegos Free-to-Play
1
Fortnite Battle Royale
2
Warface
3
H1Z1: Battle Royale
4
Brawlhalla
5
Paladins
6
PRO EVOLUTION SOCCER 2018 LITE
7
Warframe
8
DC Universe Online Free-to-Play
9
Trove
10
3on3 FreeStyle
Temas para PS4
1
The Last of Us Part II Ellie Theme
2
Legacy Dashboard Theme
3
Monster Hunter: World – Theme
4
Aurora Borealis Wolf Theme
5
PUZZLE SHOWDOWN 4K – NEO SHANGHAI THEME
6
Hipster Laser Cat HiQ Dynamic Theme
7
Assassin's Creed Odyssey – New Dynamic Theme
8
Friday the 13th: The Game Theme
9
Tetris Effect Yours Forever Dynamic Theme
10
Lightning Night Sky Dynamic Theme