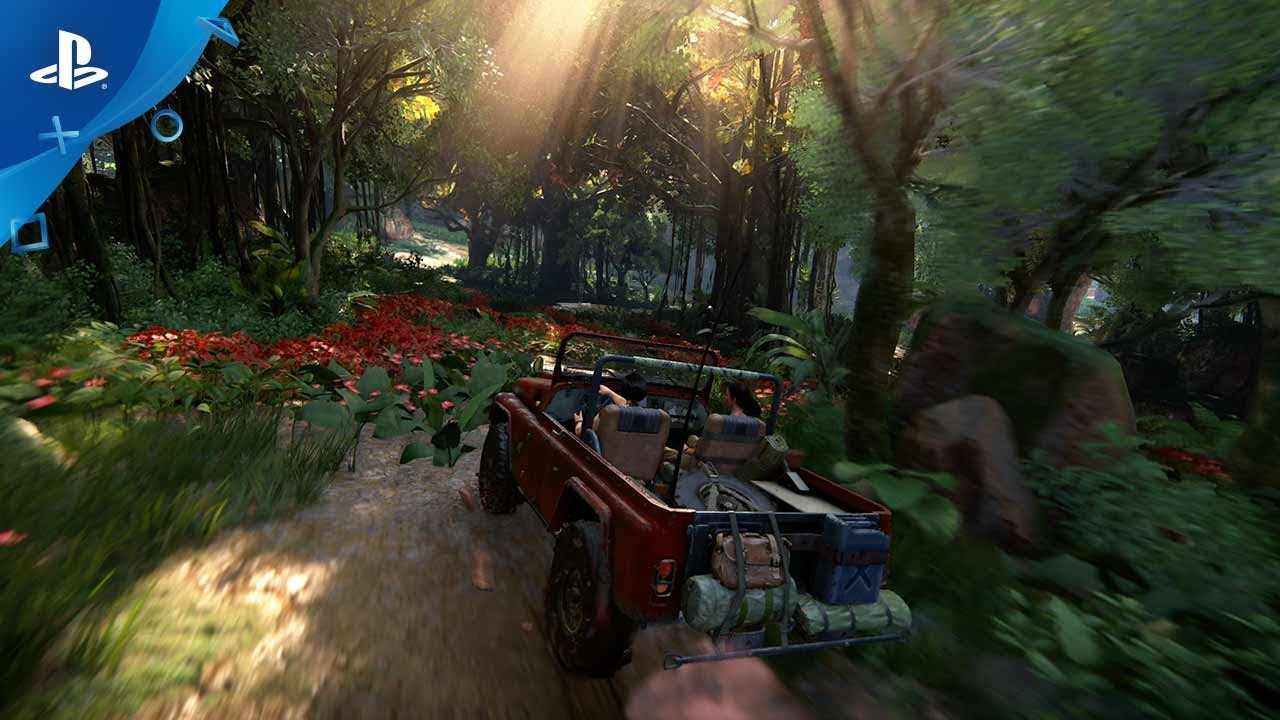 Aprendan cómo Naughty Dog lo está haciendo una vez más con este juego.
Uncharted: The Lost Legacy traza un nuevo camino para la ya probada por años fórmula de Uncharted. La semana pasada probé una secuencia en la región de los Ghats Occidentales de la India. La estructura libre y abierta puede representar la mayor evolución del juego desde la introducción del modo multiplayer en Uncharted 2: Among Thieves.
Zac y yo jugamos el título la semana pasada; escuchen* abajo para que conozcan nuestras primeras impresiones. (*Audio en inglés)
A pesar de que seguramente escucharán comparaciones con la secuencia abierta en Madagascar de Uncharted 4, los amplios espacios abiertos de The Lost Legacy son mucho más interesantes de explorar, ya sea en 4X4 o a pie.
Es más que un ámbito más amplio. Es la atención al detalle, la sensación de lugar y el sentido de tridimensionalidad. Sobresalen formaciones rocosas y los puentes entrecruzan el exuberante paisaje, pidiendo ser alcanzados y explorados. Los santuarios y fortalezas salpican la región, ofreciendo cada uno desafíos de combate y momentos narrativos que refuerzan la relación entre Chloe Frazer y Nadine Ross.
Las secuencias de combate se sienten más variadas, también, sobre la base de las mejoras introducidas en Uncharted 4. Estén cerca al pasto alto y céntrense en el sigilo, ¿O mejor una lluvia de balas? La decisión es suya.
Otros detalles interesantes abundan. En lugar de lanzar los waypoints intrusivos en la pantalla para ayudar a los jugadores a navegar por los ambientes más grandes, Naughty Dog optó por incluir un mapa (digital) al estilo Far Cry 2 que se puede desplegar con un toque al touchpad del DualShock 4. Podría parecer un detalle menor, pero fue fácil de usar y me ayudó bastante en el universo del juego.
Como Chloe, también podrán elegir las cerraduras de varios cajones de suministro dispersos durante el juego, pueden encontrar un lanzagranadas, una pistola con silenciador u otro equipo para ayudar incluso a las probabilidades contra los hombres de Asav. Esta adición ayuda a mezclar su arsenal, y mantiene la sensación de combate fresca.
Todos los cambios se suman a un juego de Uncharted que se siente más suelto, más juguetón, y si puedo ser tan audaz, más interesante para jugar. Ejemplo: un puzzle de navegación donde utilicé el gancho de agarre para oscilar de una torre a otra, activando las placas de presión antes de que el tiempo se acabara.
La nueva localización, ubicada en la exuberante región de los Ghats occidentales de la India, también muestra algunas de las vistas más bellas de toda la serie. En PS4 Pro y un televisor de 4K, con la mayor resolución y los efectos HDR me dejaron impresionado.
La química entre Chloe y Nadine también se está perfilando muy bien. Nadine rechaza a Chloe en todo, desde sus impulsivas tácticas de combate hasta su guardarropa ("¿Rojo en la jungla? ¿en serio?").
Y aunque no voy a estropear nada aquí, los fans de la serie deben saber que aprenderán mucho más sobre Chloe y Nadine, sus antecedentes, sus motivaciones y cómo se relacionan con el mundo. El diseño abierto del juego también afecta la forma en que se despliega la narrativa, pero es mejor si la experimentan ustedes mismos.
Afortunadamente, no tenemos mucho que esperar: Uncharted: The Lost Legacy llega a PS4 el 22 de agosto. Es un título independiente, por lo que no necesitan Uncharted 4.