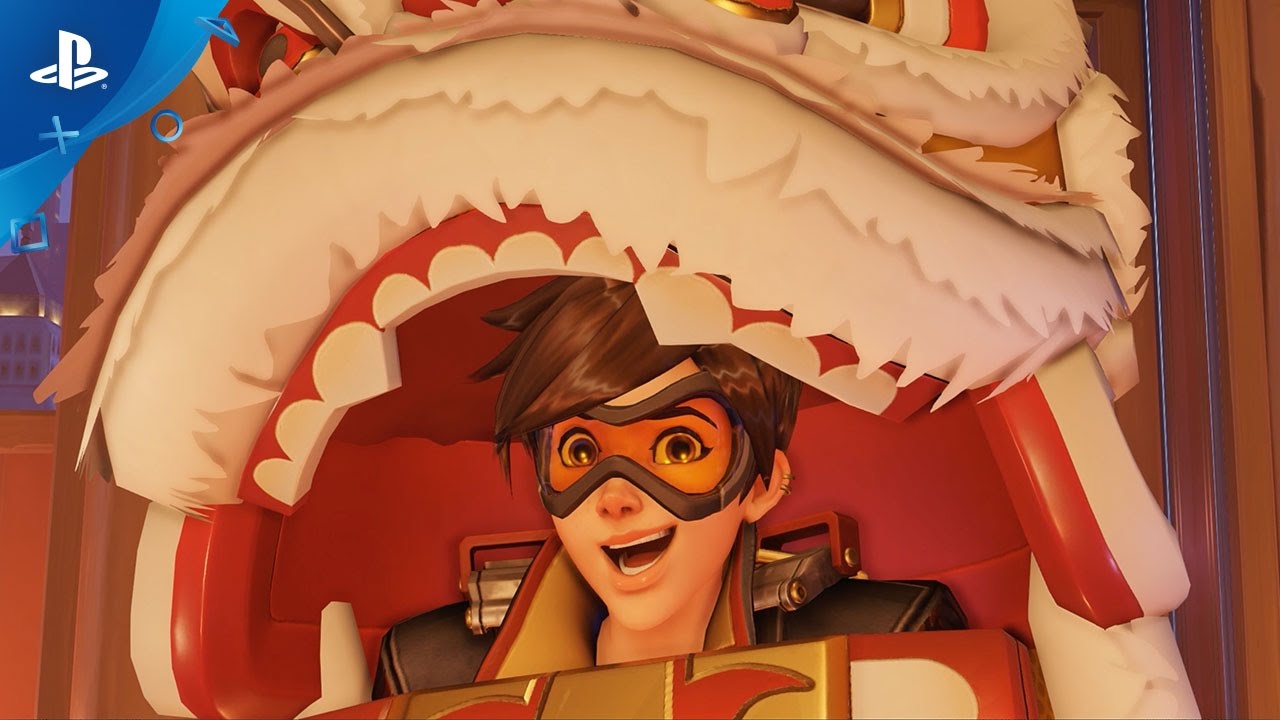 Hola a todos. El Año Nuevo Lunar ya casi está acá, y estamos celebrando la ocasión en Overwatch con un nuevo evento de temporada: Year of the Rooster.
Desde hoy y hasta el 13 de febrero, los jugadores de PS4 tendrán la oportunidad de recoger más de 100 nuevos artículos cosméticos de temporada de nuestras especiales Cajas de Botín Lunar, disfruten del tiroteo debajo de algunos juegos pirotécnicos en nuestro mapa Lijiang Tower, y participen de la pelea en un nuevo estilo de capturen la bandera.
Al igual que en los eventos previos, durante Year of the Rooster nuestras Cajas de Botín estándar han sido cambiadas por Cajas de Botín Lunar, cada una de ellas contiene por lo menos un artículo de la colección de Año Nuevo Lunar, incluyendo algunas nuevas pieles legendarias festivas como Palanquin D.Va y Wukong Winston.
Los contenidos de las Cajas de Botín Lunar son aleatorios, pero si quieren un spray específico, una pose de victoria, un emote, una intro destacada o una piel, pueden comprarlas durante el evento en la Hero Gallery con créditos del juego. Una vez que hayan desbloqueado un artículo, se mantendrá en su inventario aun cuando el evento haya terminado, así es que pueden celebrar Year of the Rooster todo el año.
Una de nuestras cosas favoritas de los eventos de temporada son las nuevas peleas, las cuales nos dan una gran oportunidad de experimentar con nuevos tipos de gameplay, desde el veloz y frenético deporte de equipo de Lúcioball al reto PvE
cooperativo de Junkenstein's Revenge. Para el Año Nuevo Lunar, tomamos un poco de la tradición y surgió una toma de Overwatch a una conocida forma de juego competitiva: captura la bandera.
En Capture the Rooster, los equipos se enfrentarán en Lijiang Tower, intentando asegurar la bandera enemiga mientras que el equipo opositor hace lo mismo. En esta lucha de ritmo veloz, los jugadores necesitarán ser creativos con su equipo mientras intentan construir una alineación para la veloz ofensiva y proteger al portador de la bandera. Estoy seguro de que la comunidad creará asombrosas estrategias, pero por ahora los dejaré con un consejo: cuando estén empezando asegúrense de tener por lo menos un jugador cuidando la bandera. ¡No querrán hacerle más fácil al Tracer cogerla!
Year of the Rooster está en curso desde hoy en PS4. Estamos entusiasmados por celebrar el Año Nuevo Lunar con todos ustedes, así es que reúnan a sus familiares y amigos, y nos vemos en el juego.